Awakened Team
Click on the name to see what he/she's working on. (WIP blog)
Founders:
3D modelers:
AverageFlame (No Link)
Adamboom321 (No Link)
Writers:
Purscill (No Link)
Jcfraven (No Link)
Programmers:
Coen46 (No Link)
CaptainRed
2D Artists:
Sound Designer:
Composer:
Since im not very active here aside from the occasional oh lets check progress and write "oh that's nice " I figured why not make a topic for one of my more favorite hobbies and see what others think? who knows i may even make a page or two for people if im feeling generous but yes by now with "pages" and the title of the topic its HTML (since there's no Off topic thread ill just post it here

)
So since i have got back into coding HTML as of this weak i made 2 pages for a Tales of Page's tumblr. (these use similar code basses so ill just put them here.
Spoiler:

www.talesforlife.tumblr.com/asteria

www.talesforlife.tumblr.com/link
These next two use different code basses and where both coded on the same day and are hosted no where as of the moment .
SAO
Spoiler:
and now my current project ive been working the past 4 hours or so on (idk i lost track of time)
Spoiler:
Well that's all i have for now i may edit this post later with more works or updates but if one of the admins has an issue with me posting this feel free to delete it or whatever

Last edited by Sorey on Thu Jul 23, 2015 2:07 pm; edited 2 times in total
I really like the Project: //Art pic. I might use it as a wallpaper.




Posts

: 3


Join date

: 2015-06-27


Age

: 17


Location

: That one place in America.



Indeed that's a very nice Project. Not only the SAO, but the other two are cool as well.



Posts

: 38


Join date

: 2014-07-17


Age

: 17


Location

: In the Darkness ;o



nothing HTML but something i did none the less. XD


Haha pretty cool, where have I heard that song before? :p
_________________
Awakened Studio Co-Founder
Follow me on Twitter @JoeyQuinto

"Squashing bugs like bad habits!" -Me
Fast cars and shooting stars
Admin




Posts

: 327


Join date

: 2013-12-12


Age

: 19


Location

: USA



Today we learned... dont use Cry engine 3 if your pc is not fast enough XD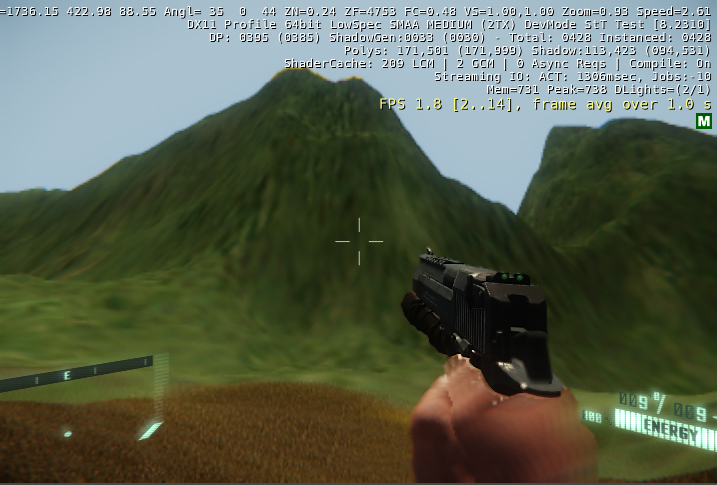 1 fps! and you don't have anything but terrain xD
_________________
"Never trust time, it will let you down at the last minute." -me
Skills: Music, 3D modelling, Drawing and other stuff.

If you need help for anything, contact me by PM.
Admin




Posts

: 307


Join date

: 2013-12-11


Age

: 20


Location

: Canada



Owex wrote:1 fps! and you don't have anything but terrain xD
Before i could get 22 FPS but that was it XD
really cool stuff though, cant wait to see more



Posts

: 83


Join date

: 2015-07-14


Age

: 16


Location

: US, washington




Similar topics
---
Permissions in this forum:
You
cannot
reply to topics in this forum